Premium Banking is more than just another card or account. It's a new perspective on your money and your life. For R159 per month, you get a range of exclusive services and lifestyle benefits that will help you reach your financial goals.
Minimum income: R25 000 pm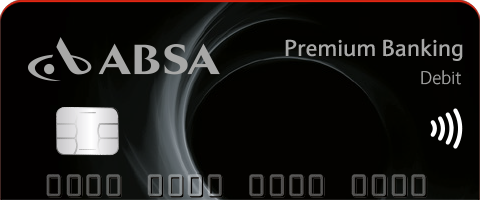 Smarter banking

R159 per month
Includes:

Free online banking
Free mobile app banking
Free NotifyMe SMS notifications
Free card swipes
7 free Absa ATM cash withdrawals
5 free Absa ATM cash deposits

Debit card with contactless tap and pay
One card credit card solution: access your debit, credit or savings account with one card
View and pay bills online using the walletdoc app or website
Keep all card and payment details in your MasterPass digital wallet
Wealth enhancement

Access to a financial advisor
Free financial needs analysis
Find the right investment for you with the Virtual Investor tool
Save or invest with:

Investor Plus: Grow your investment with 7.5% interest and have easy access to your money when you need it.
Dynamic Fixed Deposit: You get to choose the deposit amount, your investment term and how much money you want immediate access to.

Free Stockbroking Account (no monthly admin fees): Invest and trade in all local JSE™-listed equities (shares), warrants, share instalments and all exchange-traded funds (ETFs) as well as offshore in over 25 exchanges worldwide.
Currency Investment Account: Open an account in various currencies and protect yourself against exchange fluctuations.

Family benefits

50% off spouse or partner bundle fees
Free MegaU account and app for children under 19
R25 000 lump sum death benefit
Education protector
Making the switch is easy

We switch your debit orders for you. Download a switching form here, complete and send to switching@absa.co.za.
Benefits of switching include:
*Terms and conditions apply
What you need to apply

Minimum income of R25 000 per month
Valid, bar-coded South African ID
Proof of residence
Your latest salary advice
South African citizenship
Need more help?
Get in touch on the 24/7 Premium Line:
0860 109 085
International callers:
+2711 501 5006

E-mail us at: