Enjoy a full service bank account with the Flexi Value Bundle. For a low monthly fee of R70.00, you'll get a bundle of free transactions along with value added services.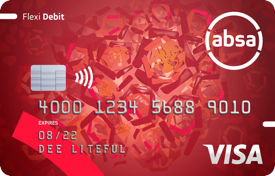 Need more help?
Let one of our consultants help you get the best account for your needs.
Call us on:
08600 08600
X
There's a smarter way to open your account. Download it.
If you are a new customer, you can open this Cheque account within minutes by using our App. Download the Absa Banking App and click on "Open an Account".