If you are unemployed or earn less than R2 000 per month, this basic and affordable transactional account will meet all your banking needs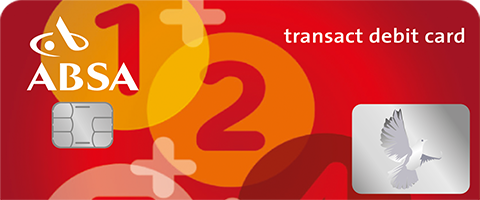 How to get it and what you can expect
To open a Transact account you will need:
A valid, bar-coded South African identity document
Proof of residence
To close any existing Absa transactional account/s
Account features
Minimum monthly fee of R4.95
Simple and easy pricing structure

Pay for your purchases using your debit card at no charge

Register for cellphone banking and manage your money anywhere and anytime
Access and manage your money 24-hours a day through cellphone banking

No charge for balance enquiries at Absa ATMs, selected retailer point-of-sale (POS) and Absa supported ATMs

Safely withdraw cash from selected retailers

Access to NotifyMe, a service that alerts you whenever there is activity on your account
No minimum balance required to open an account
Buy prepaid electricity using this bank account
You can top-up your prepaid airtime account
Monthly statements and interim statements are available on request, for a fee, from Absa ATMs or branches

How to use the account to transact
Purchase goods using your debit card at any merchant or shop where the Maestro/Visa Electron logo is displayed
Make withdrawals, deposits, transfers, account payments, print balances and statements at any Absa ATM
Request monthly statements and interim statements on request, for a fee, from Absa ATMs or branches
Safety tips on how to use an account card
Keep your card safe and be sure to memorise the PIN
Never keep the PIN with the card and never give your PIN to anyone
You can change your PIN at any Absa ATM or Absa branch
Never let the card out of your sight when using it to pay for goods or services at a tillpoint
Make sure that you receive your card back after every purchase
Keep your copy of the receipt as proof of purchase for your own records
Never trust strangers or ask them to help you when you use your card at an ATM

The Absa MasterPass wallet
Make shopping quick and easy with the MasterPass App
Today's digital world allows you to do business on the go with the Absa MasterPass™ App. This digital payment application makes shopping faster, easier and more convenient. It's easy – just download the MasterPass App, register and shop away.
Need more help?
Let one of our consultants help you get the best account for your needs.
Call us on:
08600 08600
E-mail us at: