Hit the books and let your hair down while we worry about providing you with affordable student banking.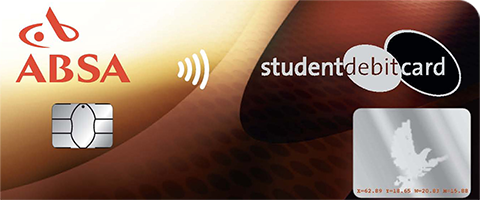 How to get it and what you can expect
Benefit from reduced banking fees and unlimited electronic transactions
for a low fixed monthly fee. Manage your money 24/7 via the internet,
your cellphone or with telephone banking.
To open a Student account you will need:
18 - 27 years old

A valid, bar-coded South African identity document or a valid passport

Proof of residence (not more than 3 months old, e.g. utility bill or Telkom statement)
Proof of registration at tertiary institution

Must be a full-time student studying towards an undergraduate or postgraduate degree or qualification of one year or more
Account features
Convenient 24-hour self-service access through Absa Online, Cellphone Banking and Telephone Banking
Cheaper banking fees while you study, through multiple pricing options
No monthly subscription fee for Internet Banking, Cellphone Banking and Telephone Banking
Unlimited, free NotifyMe messages via SMS and E-mail
Free mailed or eStatements
Unlimited, free electronic payments including debit and stop orders
Unlimited, free debit card point-of-sale purchases and cash withdrawals
Unlimited, free Absa ATM balance enquires and mini-statements
Unlimited, free Absa ATM cash deposits
Unlimited, free Absa ATM cash withdrawals
Unlimited, free electronic internal funds transfers
Free CashSend withdrawals at Absa ATMs
Get 24/7 access to the largest ATM network in South Africa
Get these value added services monthly
A R20 Burger King or McDonalds discount voucher; or a R25 Vida e Caffe' discount voucher
1 free movie ticket per month at Nu Metro (2D only)

50 megs of free data per month through MTN, Cell C, Telkom or Vodacom (on prepaid or top-ups)
R150 discount on a single trip via Eldo coaches or Intercity, on any national published route
View frequently asked questions
To redeem your monthly Value Added Services simply dial *120*3475# and follow the prompts.
Download the terms and conditions (PDF 161Kb) for the Value Added Services
How to use Student to transact
Make withdrawals (from an Absa ATM or at a point-of-sale), account payments and electronic fund transfers
Get prepaid top-ups and print balance enquiries and mini statements at any Absa branch or ATM
Your account number stays the same even if you upgrade your account or transfer to another branch
Use Absa ATMs, their fees are more cost-effective than Saswitch fees
Keep your card and your Personal Identification Number (PIN) in a safe place
Swipe your card locally and internationally at point-of-sale (POS)
Shop securely online with One-Time PIN transaction verification
Never let the card out of your sight when using it to pay for goods or services at a tillpoint
You can change your PIN at any Absa ATM or Absa branch
Remember your PIN and never write it down
Register for Absa Online where you can do the following:

Instantly set limits to pay beneficiaries
Instantly set debit card limits
Reset a locked or forgotten online password
Retrieve your debit card PIN
The Absa MasterPass wallet
Make shopping quick and easy with the MasterPass App
Today's digital world allows you to do business on the go with the Absa MasterPass™ App. This digital payment application makes shopping faster, easier and more convenient. It's easy – just download the MasterPass App, register and shop away.
Need more help?
Let one of our consultants help you get the best account for your needs.
Call us on:
08600 08600
E-mail us at: