Our Premium Banking Credit Card is more than just another card or account. It's a new perspective on your money and your life. Apply online today.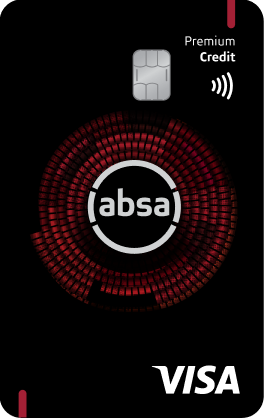 Absa Online Banking customer
If you're an Absa Online Banking customer, you can apply for a credit card quickly and easily.
Advantages of your Premium Credit Card
Features and benefits

Digital banking: Use your Absa Banking App to stop and replace your card, report fraud, manage your daily card limits and more. Or you can logon to Absa Online Banking and bank wherever you are, 24/7
Bidvest Airport Lounge: 12 complimentary visits per year and access at preferential rates thereafter (including guests)

Travel insurance* R3 million automatic basic cover for a range of travel emergencies
Free lost card protection: You are covered if your card is lost or stolen, subject to letting the bank know (please call us on 0800 111 155)

Absa Rewards: Earn up to 30% real cash back, depending on your Rewards Tier when you pay with your card locally and internationally
Absa Advantage: Complete simple challenges on the Banking App and get rewarded instantly

Exclusive Visa benefits such as Visa Global Merchant offers
Contactless payments: Tap to pay with your card, smartphone or wearable device at any point-of-sale machine worldwide

NotifyMe: For added security, activate SMS notifications to get alerts of any activity in your account
*Underwritten by Bryte Insurance Company Limited.
Terms and conditions apply to all services and benefits.
Premium Rewards Booster at Dis-Chem
As a Premium Banking Credit Card holder you can earn an additional 10% booster on top of the standard Absa Rewards earn rate at Dis-Chem.
To qualify for the booster you have to have a minimum total monthly spend of R7 000 on your Premium Banking Credit Card for the Rewards accrual period (spend period is from the 16th of each month until the 15th of the next month). Your total spend can be a combination of Dis-Chem spend and any other qualifying credit card spend.
To qualify for any booster earn you must have spent at Dis-Chem during the month.
The booster is only paid on purchases made on your Premium Banking Credit Card account. Purchases funded from the transactional or cheque account will earn at the normal debit card earn rate and will not count towards the booster total.
If the spend cap of R3 000 or 30% of the total spend across all cards (whichever occurs first) is reached on an Absa card other than the Premium Banking Credit Card, subsequent spend made with the Premium Banking Credit Card will not attract any earn benefit, including this additional benefit.
The earn will increase as follows for the various tiers:



Tier 5: from 30% to 33%
Tier 4: from 6.5% to 7.15%
Tier 3: from 2.5% to 2.75%
Tier 2: from 1.5% to 1.65%
Tier 1: from 1% to 1.1%


Existing credit card and Absa Rewards product rules and spend thresholds apply.
Find out more about the Absa Rewards Dis-Chem partnership and the detailed terms and conditions for this offer.
Rates and fees
Interest rate: Get up to 57 days interest-free on qualifying transactions

Transaction fee: No transaction fees on purchases
Fixed monthly payments: You can pay extra on your monthly instalments if you need to
Buy and pay with your credit card
Credit limit: Up to R138 000
Swipe, scan or tap to pay at any point-of-sale machine worldwide
Shop securely online or in-store
Qualifying criteria and requirements

Monthly income required: R25 000

Age: 18 years or older
Documentation required: Valid South African ID book or smart card, proof of residence and the latest proof of income for three consecutive months
Subject to affordability assessment
Our 5-step credit card application process
Click on the Apply now button below
On the Online Account Application page, enter the characters as displayed in the image
Please complete the six-step assessment
You may Save and continue later, or Continue at each stage of your assessment
Click Apply when you have completed your assessment
Alternative application options
If you are not sure our Premium banking credit card. is the right card for you, please compare our credit cards. If you need alternative application processes, find the one that suits you below:
Telephonic application
Call us on 0861 114 411
Weekdays 08:00 – 17:30
Saturday 08:00 – 13:00
Frequently asked questions
Need more help?
General card support

Call us on 0861 462 273
International +27 11 354 4001
Monday – Sunday
07:00 – 19:00
For Lost and stolen cards

Call us on 0800 111 155 | Absa App
Apply online 24/7

Or call us on 0861 114 411
Weekdays 08:00 - 17:30
Saturday 08:00-13:00
For application status updates

Call us on 0861 114 411