Our Gold Credit Card is an all-inclusive card tailored to suit your needs.
If you earn between R4 000 and R25 000 a month, this card will help you fulfil your financial dreams.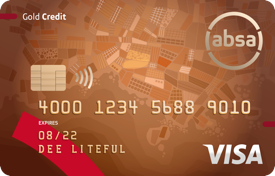 Monthly income between R4 000 and R25 000
You must be 18 years or older

Subject to affordability assessment


*Terms and conditions apply

Valid South African ID book or Smart card
Proof of residence
Latest proof of income for three consecutive months required

Need more help?
Let one of our call centre agents help you get the best account for your needs.
Apply online 24/7 or call:
0861 114 411
Weekdays 08:00 - 17:30
Saturday 08:00-13:00
General card support:
0861 462 273
Weekday: 08:00 - 20:00
Weekends: 08:00 - 13:00

For 24-hour Services:
For application status updates call:
0861 114 411
For Lost and stolen cards call:
0800 111 155 | Absa App
Email us at: