Our Shari'ah-compliant accounts
Account
Qualifying Criteria
Key features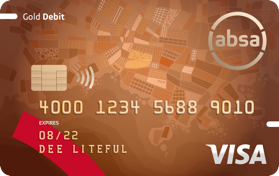 Islamic Gold Value Bundle

Recommended income of R4 000
Valid, bar-coded South African ID
Proof of residence
Latest proof of income (Salary advice) or latest 3 (three) months' bank statements

Five Absa ATM cash withdrawals
Five Absa ATM cash deposits
Unlimited card swipes
Unlimited electronic payments
Any unused transactions will roll over for one month
NotifyMe, where we immediately alert you to activities on your account via SMS or email
Up to 50% discount on your monthly fee if you keep a positive balance in your account
Tell me more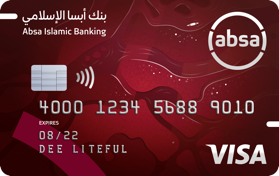 Islamic Premium Banking

Recommended income of R25 000 or more per month
Valid, bar-coded South African ID
Proof of residence
Latest proof of income (salary advice) or latest three months' bank statements

Online banking
Mobile app banking
Unlimited Notify-me SMS notifications
Unlimited card swipes
Seven Absa ATM cash withdrawals
Five free Absa ATM cash deposits
24/7 dedicated Premium Banking line
Priority bankers in selected branches
Access to a financial adviser
50% off spouse or partner's Premium Banking fees
Free Islamic Youth account and app for children under 19
R25 000 Takaful death benefit
Islamic will
Travel benefits
Lounge access with DragonPass

Tell me more
Account
Qualifying Criteria
Key features
Islamic Youth account
For age 16 to 19
A valid, bar-coded South African identity document or valid passport
Proof of residence not older than 3 months (e.g. utility bill or cell phone statement)
For minors under the age of 16
Original birth certificate or valid passport
Parent or guardian's proof of residence not older than 3 months (e.g. utility bill or cell phone statement)
Parental consent is required to open and operate the account
Parent or guardian's original bar-coded ID
Direct access to your money - which means you don't need to carry cash
A card that can be used for transactions at an ATM and point-of-sale terminals in stores
A PIN-based debit card - which is the most secure way to verify a transaction
Banking services usually associated with credit cards - such as making online, mail order and telephone order transactions
An annual profit share calculated at Absa's financial year-end (31 December) and paid into your account on 25 January of the following year
Tell me more
Islamic International Banking
Foreign banknotes
Cash Passport
Send money abroad
Pay subscriptions
Exchange currency
Tell me more
Islamic Vehicle Finance
You can enjoy access to a vehicle for a fixed period and price
Flexible payment options that allow you to reduce your monthly rental fee when you have extra cash
Variable and fixed rental fees for the duration of the lease
At end of lease, you can buy the vehicle at an agreed price, nominate a third party to buy it or use it at a reduced or null rental fee
Insurance cover for your commercial assets and vehicles with access to a range of free services

You get access to Absa Internet Banking to view and monitor your outstanding balance, transactions history, etc
Benefit from unique advantages such as 100% financing and tax benefits
Tell me more
Other Shari'ah-compliant solutions
Account
Qualifying criteria
Key features
Islamic Savings
Valid ID
Proof of residence
A minimum initial deposit of R50 to open the account, and a minimum balance of R50 must be maintained
Access and manage your money 24/7
Manage your everyday banking needs, from making withdrawals, deposits, transfers and payments to requesting balances and statements
Tell me more
Islamic TargetSave
Valid ID
Proof of residence
A minimum initial deposit of R100 to open the account
A minimum monthly deposit of R100 for at least 6 months
Islamic TargetSave is a disciplined savings plan.
Matures on the 31st of December each year when funds are available immediately on request.
If no instructions are received within 30 days after maturity, funds are automatically re-invested.
The product pays a higher annual profit share than the transactional savings account – within 4 weeks of the end of the financial year.
There are no admin charges and service fees.
Deposits can be made at any ATM or branch or by means of stop orders, debit orders or electronic transfers.
The Islamic TargetSave account is based on the Mudarabah principle whereby depositors contribute capital and Absa Islamic Banking manages the funds.
Profits are shared according to a pre-agreed ratio.
Funds deposited are not capital guaranteed. Profit share is capitalised annually on 25 January for the previous year.
Tell me more
Islamic Term Deposit
Valid ID
Proof of residence
A minimum initial deposit of R1000 to open the account.
No monthly fees
Islamic Term Deposit offers competitive investment returns.
A simple, Shari'ah compliant investment option.
The minimum investment deposit is R1 000.
There is a choice of investment terms – 30, 60, 90, 180 days up to 5 years.
There are no monthly fees and hidden costs.
A monthly profit share is possible by investing funds on a monthly investment basic.
The Islamic Term Deposit is based on the Mudarabah principle. This means that, the customer is a passive partner in this type of transaction.
Tell me more
Other Shari'ah-compliant solutions
Account
Qualifying criteria
Key features
Islamic Profit Share
Absa Islamic Banking has well defined profit sharing ratios defined in the terms and conditions of each product. Profits are realised or received from Shari'ah compliant investment activities
Once realised or received, profits are shared between the customer and the bank at the pre-agreed profit sharing ratio
Tell me more
Islamic Will
Designed according to the principles of Shari'ah law
It is valid legal Will in terms of the Intestate Succession Act. This act deals with the distribution of ones estate in terms of the laws of the country in the event there is no Will
Safe custody for your convenience
Tell me more
Islamic Gold Graduate
To be under 30 years old
Be in your final year of studies or have just qualified.
A valid, bar-coded South African identity document or valid passport.
Five Absa ATM cash withdrawals
Five Absa ATM cash deposits at Absa ATM or Cash Acceptor.
Unlimited:

Electronic balance or statement enquiry (at Absa ATM, Internet, Cellphone, Telephone Banking).
Funds transfers and internal payments (includes internal debit orders and stop orders).
Debit or cheque card purchases
Cash withdrawals at point-of-sales (POS)
Electronic account (includes external debit orders) and beneficiary payments via Absa ATM, Internet, Cellphone, Telephone Banking.

Unlimited SMS or email notifications
Monthly subscription fee for Internet Banking, Cellphone Banking and Telephone Banking.
Unused transactions allocated in your Value Bundle will roll over for one month if not used in the current month.
50% discount on monthly service fees if a positive balance of more than R30 000 is maintained.
Get a meal voucher to the value of R50 per month. Halaal restaurants are available, the onus is on you to verify the Halaal certification of the restaurant
Receive a R200 travel voucher per month
Get up to 30% discount on membership fee at selected gyms
Tell me more
Need more help?
Let one of our consultants help with your Islamic banking enquiries.
Call us on:
0860 000 786
Email us at: