This is a Shari'ah compliant product based on a Qardh structure, offering a full banking Gold transactional account with a Value Bundle pricing option.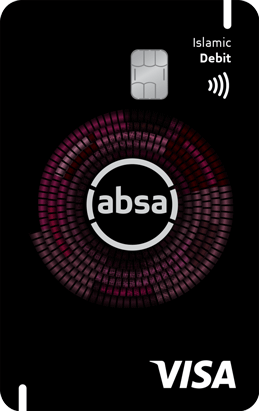 Get started with a Shari'ah-compliant account
How to get it and what you can expect:
To earn a gross income of R4 000 or more per month
A valid bar-coded South African ID or a valid passport for foreign nationals
Proof of residence
Proof of income (salary advice) or latest three months' bank statements

Included with your account:

Monthly subscription fees for Absa Online, telephone and cellphone banking
Monthly eStatements
Unlimited electronic transfers between your linked accounts and internal payments
Unlimited internal debit orders
Unlimited stop orders
Absa ATM cash withdrawal - up to the total value of R4 000
Absa ATM cash deposit - up to the total value of R4 000
Unlimited card swipes at point-of-sale
Unlimited cash withdrawals at point-of-sale
Unlimited electronic payments
Unlimited NotifyMe, where we immediately alert you to activities on your account via SMS, email or in-app notifications
Islamic life cover to the value of R20 000

You also have a choice of choosing an Islamic Gold Pay-as-you-Transact. This account is at a low monthly fee, giving you control of only paying for transactions you perform. Pay-as-you-transact fee for each transaction is applied.

Get a card that can be used for transactions at an ATM and point-of-sale (POS)
You get a debit chip card with a unique PIN (Personal Identification Number) for added security
Shop securely with One-Time PIN transaction verification
Use your debit card to check your balance and statement, withdraw, deposit and transfer money at ATMs
Visit absa.co.za and register for Absa Online:

Instantly set limits to pay beneficiaries
Reset a locked or forgotten online password
Retrieve your debit PIN online
Make immediate interbank payments online

You can change your PIN at any Absa ATM or Absa branch
Add Absa Rewards and you'll earn Cash back on all qualifying transactions every time you swipe your debit card

Cheque and debit card which can be used worldwide
Convenient 24-hour self-service access through Absa Online, mobile banking app and telephone banking
Your account number stays the same even if you upgrade your account or transfer to another branch
Need more help?
Let one of our consultants help you get the best account for your needs.
Call us on:
0860 000 786
Email us at: