With our savings account, we will help you build your banking profile and prepare you for the next stage of your life. This account is ideal if you want to save based on the Mudarabah pre-agreed profit-share principle.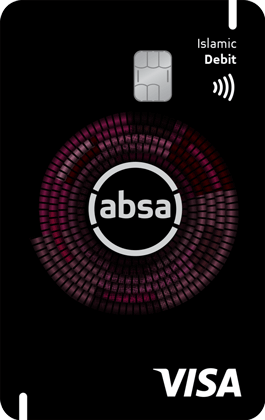 Benefits and how to get it
A minimum deposit of R50
To maintain a minimum balance of R50
A valid bar-coded South African ID or a valid passport for foreign nationals
Proof of residence

Shari'ah compliant
Monthly fee of R30
Immediate access to your capital with no minimum or maximum investment period
You are able to conduct all types of electronic payments and transfer transactions, and you can access your funds via ATMs or Absa branches
If you have R16 500 or more in your account, certain transaction fees will be waived
Get your statements on request
The ability to make third party payments
An annual profit share calculated at Absa's financial year–end (31 December) and paid into your account on 25 January of the following year
Convenient 24-hour self-service access through Absa Online, mobile banking app and telephone banking

Get a card that can be used for transactions at an ATM and point-of-sale (POS)
You get an Islamic Cheque Absa debit chip card with a unique PIN (Personal Identification Number) for added security
Shop securely with One-Time PIN transaction verification
Use your debit card to check your balance and statement, withdraw, deposit and transfer money at ATMs
Visit absa.co.za and register for Absa Online:

Instantly set limits to pay beneficiaries
Reset a locked or forgotten online password
Retrieve your debit PIN online
Make immediate interbank payments online

You can change your PIN at any Absa ATM or Absa branch
Add Absa Rewards and you'll earn cash rewards on all qualifying transactions every time you swipe your debit card
A debit card which can be used worldwide
Your account number stays the same even if you upgrade your account or transfer to another branch
Need more help?
Let one of our consultants help you get the best account for your needs.
Call us on:
0860 000 786
Email us at: