If you've been looking to start building a credit record, then our Absa Flexi Core Credit Card is the perfect first-time credit card for you. Get this card and enjoy multiple benefits, from making purchases in stores and online, to making larger purchases without having to carry huge amounts of cash around.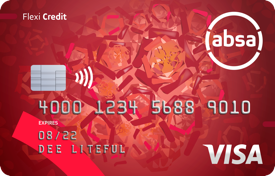 Flexi Core Credit Card benefits and how to get it

*Terms and conditions apply
Need more help?
Let one of our call centre agents help you get the best account for your needs.
Apply online 24/7 or call:
0861 114 411
Weekdays 08:00 - 17:30
Saturday 08:00-13:00
General card support:
0861 462 273
Weekday: 08:00 - 20:00
Weekends: 08:00 - 13:00

For 24-hour Services:
For application status updates call:
0861 114 411
For Lost and stolen cards call:
0800 111 155 | Absa App
Email us at: