Our relationship management approach ensures we attend to all your banking needs in the best possible way.
Seasons change and so does the capital at your business's disposal. That's why we have a team of dedicated specialists to create tailor-made solutions to meet your sector's unique needs. Through the right combination of working capital funding, international banking and investment solutions, we can help with your liquidity management.

By supporting energy efficiency, cost savings and industry competitiveness, we can unlock your potential in the manufacturing value chain. As a bank that understands the nuances of the manufacturing sector, we look forward to partnering with you on our growth journey.

We do more so you can. That's Africanacity.
I can partner with a bank that
safeguards my capital
Get your business to save more when it needs to. Have access to funds
when you need them most. Open a Business Evolve account today.





Manufacturing case studies
Addressing the right need at the right time
During the year, a manufacturer's sales follow a seasonal trend. Ahead of the peak sales period manufacturers stock up on raw materials, both domestically and through imports from African countries and across the globe. This is to ensure they are able to meet the upcoming expected increase in demand.

Ahead of and during this peak sales period a manufacturer may find themselves with a cashflow shortfall as their capital is tied up in inventory. When sales occur, the money is not immediately reflected in the manufacturer's bank account as it is tied up in their debtors.

Post the peak sales period, when the debtors pay their accounts, it is important that manufacturers manage this inflow of cash effectively in order to ensure they are adequately prepared for the next sales season and are able to invest in opportunities that can give them a competitive advantage.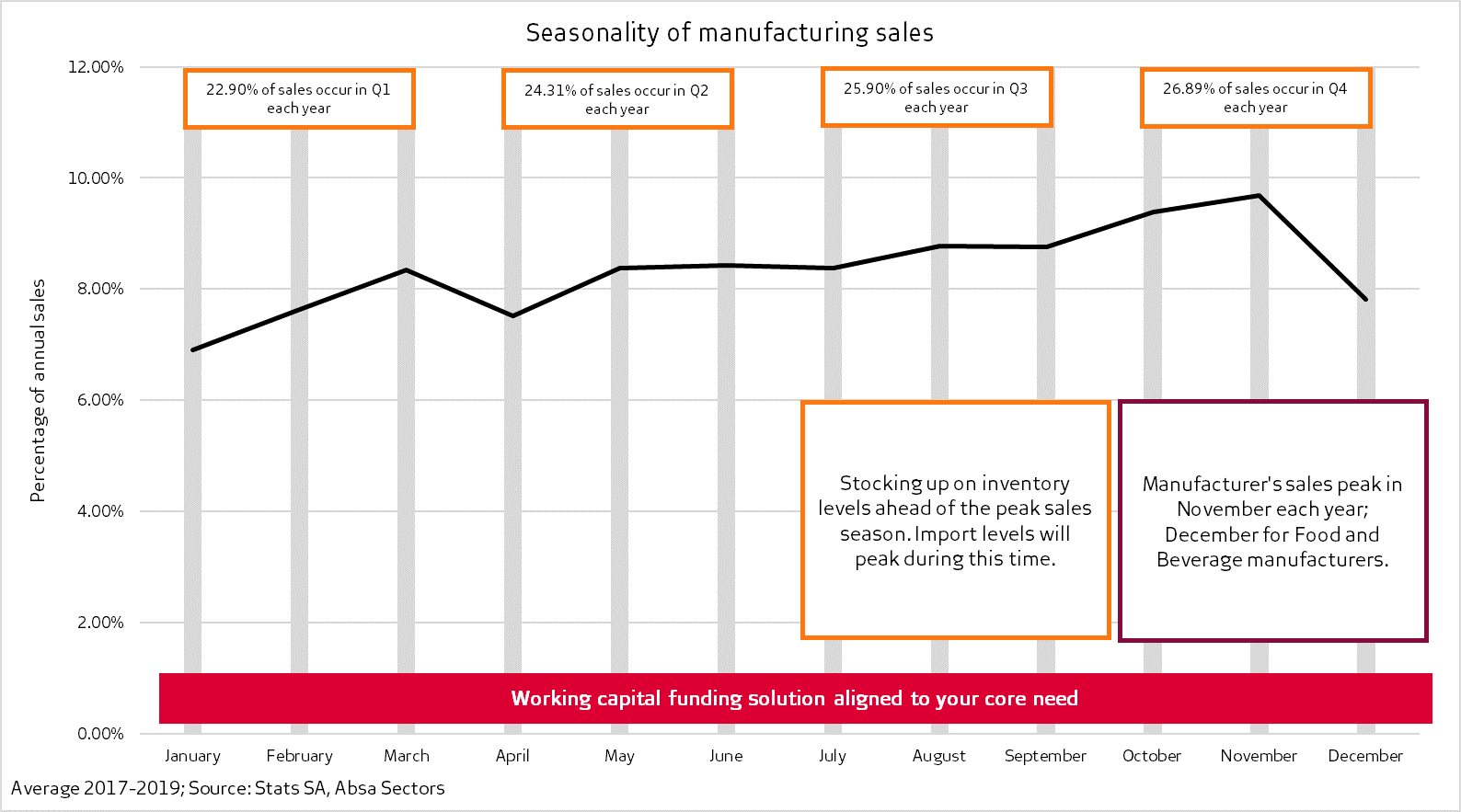 Our Business Evolve packages are suitable for businesses of all sizes and can grow with you as your business grows. All packages include free access to our Cashflow Manager, a cloud-based accounting software.
Explore Business Evolve accounts

Effective management of working capital is vital for the success of a manufacturer. We have several options available to you. For more information or advice on the right funding solution for your business, click on the link below.
View our business loans

Ensuring cash inflows are saved and invested efficiently can allow a manufacturer to adequately prepare for and have the ability to invest in opportunities that can give them a competitive advantage.
Explore our savings and investment solutions

Manufacturing is a global operation and involves importing raw materials as well as export of finished goods. Manufacturers need to ensure that they are adequately funded and have the necessary safeguards in place for any imports and exports they perform.
Explore our international banking solutions
Innovation is key to your sustainability
To ensure manufacturers remain competitive, it is vital that they continue to invest in their businesses.

Investing in efficient practices such as new equipment and machinery or the automation of processes are some of the first steps towards reducing running costs of a manufacturing operation. Manufacturers should take advantage of advancements in technology that will enable them to gain a competitive edge. This includes investing in renewable energy solutions which not only reduce the cost of electricity but also mitigate the risk of outage.
If you need to purchase new or replacement assets to keep your business running efficiently.
Explore our commercial asset finance solutions

Investing in renewable energy is a smart decision to mitigate the risk of load shedding and tariff increases. Renewable energy installations have long-term life spans and tend to have low maintenance costs.
Get green asset finance

There are options available for manufacturers looking to invest in their own property or expand operations.
Commercial Property Finance can be used for the purchase and development of property while Mortgage-Backed Business Loans are used to provide a finance facility to businesses that wish to leverage off their balance sheet where the commercial property is owner-occupied.
Apply for Commercial Property Finance
Partner with us in your growth journey
At Absa we aim to unlock value chain opportunities for your business. We achieve this by:
Developing partnerships and working relationships with government and associations that drive the growth of the industry to achieve a sustainable and competitive manufacturing sector.
Understanding the nuances of the manufacturing sector and staying up to date with industry information through client and industry engagements as well as sponsorships of the Absa Manufacturing Survey conducted by the Bureau of Economic Research each quarter.
Our enterprise development solutions are focused on giving your SME business access to finance, markets and business support.
Enterprise Development Funding

Bring your employees' possibilities to life with competitive banking products, exclusive offers, convenient banking channels and free financial education.
Employee Banking
Need more help?
Let one of our consultants help you get the best business banking solution for your needs.
Call us on:
011 350 8000