Establish good credit habits while earning rewards on your purchases. Apply for an Absa Student Credit Card and live life on your terms.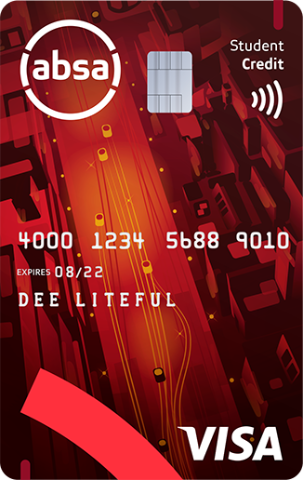 Advantages of your Student Credit Card

Features and benefits

Digital banking: Use your Absa Banking App to stop and replace your card, report fraud, manage your daily card limits and more. Or you can logon to Absa Online Banking and bank wherever you are, 24/7
Travel insurance: R1,5 million automatic basic cover* for a range of travel emergencies
Free lost card protection: You are covered if your card is lost or stolen, subject to letting the bank know (please call us on 0800 111 155)

Absa Rewards: Get cash back when you pay with your card locally and internationally
Absa Advantage: Complete simple challenges on the Absa Banking App and get rewarded instantly for banking smarter

Exclusive Visa benefits such as Visa Global Merchant offers
Contactless payments: Tap to pay with your card, smartphone or wearable device at any point-of-sale machine worldwide
NotifyMe: For added security, activate SMS notifications to get alerts of any activity in your account
*Underwritten by Bryte Insurance Company Limited.
Terms and conditions apply to pricing, services and benefits.

Rates and fees
Interest rate: Get up to 57 days interest-free on qualifying transactions

Transaction fee: No transaction fees on purchases
Fixed monthly payments: You can pay extra on your monthly instalments if you need to
Buy and pay with your credit card
Swipe, scan or tap to pay at any point-of-sale machine worldwide
Shop securely online or in-store
Qualifying criteria and requirements

Monthly income: Minimum monthly income or allowance of R800

Age: Between 18 and 30 years
Documentation required: Valid South African ID book or smart card, proof of residence and the latest proof of income for three consecutive months
Student registration: You must be a registered full-time student at an FET college, SAQA-approved institution, university, university of technology or private institution
Alternative application options
If you are not sure our Student Credit Card is the right card for you, please compare our credit cards. If you need alternative application processes, find the one that suits you below:
Telephonic application
Call us on 0861 114 411
Weekdays 08:00 – 17:30
Saturday 08:00 – 13:00
Contact details

Call us on: 0861 114 411
Weekdays 08:00 - 17:30
Saturday 08:00-13:00