We know the unexpected happens

COVID-19 is not a specific exclusion on Absa Life policies. A claim resulting from the virus will be covered subject to the general terms and conditions of your policy.

Speak to one of our agents for peace of mind.
Contact Absa Life for any queries or to submit a claim on 0860 227 253

What do I need to be able to claim?
In order for a funeral claim to be processed, the client will need to provide the following documentation:
Completed claim form
Completed BI 1663 (Notification of death)
Certified copy of the death certificate
Certified copy of claimant's identity document – if the claimant is not the Main Member/Policy Holder
Certified copy of deceased's identity document
A completed police report is required if death occurred due to unnatural causes
Proof of banking details (not older than 3 months) is required if the proceeds are paid into any other bank, other than Absa Bank
Where no beneficiary is noted, a Letter of Authority is required
Once you have all of the documentation mentioned above, you can email them to funeral.absalife@absa.co.za to submit your claim. Remember, you can get your documents certified at your nearest Absa branch, police station or at a commissioner of oaths.
Submitting a funeral claim to Absa life doesn't have to be complicated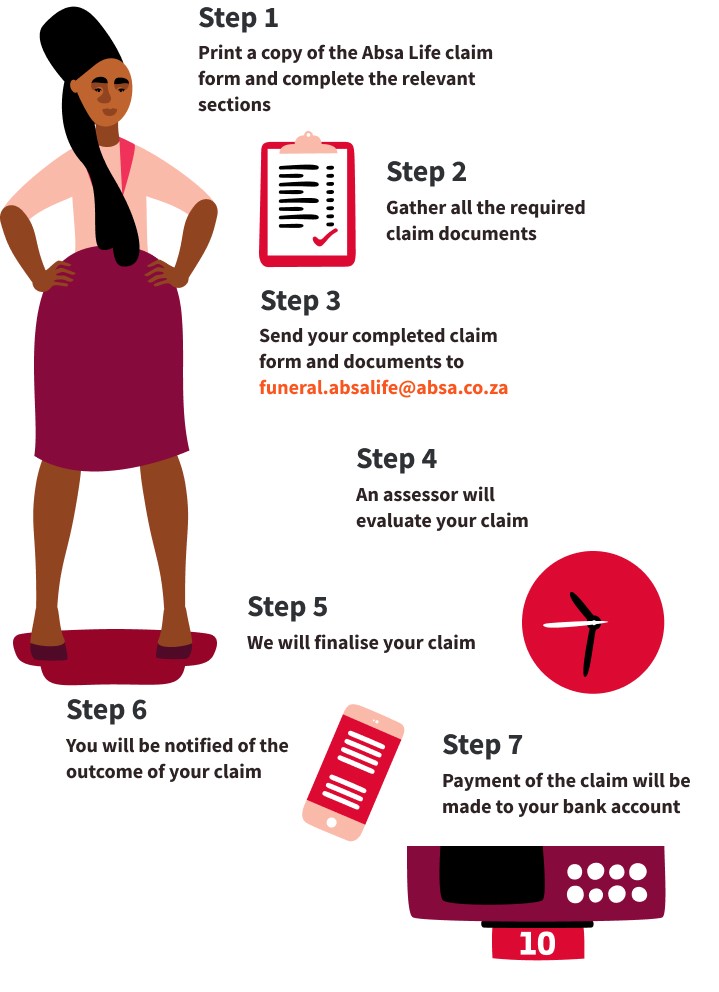 Receiving your payout
If you have an Absa bank account, you should get paid on the same day, provided that the claim has been approved and that all requirements have been met. If payment needs to be made to a non-Absa bank account, given that the claim has been approved and all conditions have been met, payment could take up to 72 hours to reflect in your bank account.


Need more help?

Contact Absa Life for any queries or submit a claim on:

0860 227 253

Underwritten by Absa Life (Absa Life Limited, registration number 1992/001738/06)