Absa Gold Credit Card holders get preferential rates and have access to the ultimate style and luxury at Bidvest Premier Airport Lounges. This means that any Absa Gold Credit Card holder can pay less than the current walk-in rate for lounge visits.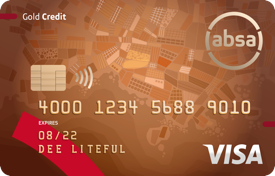 How to get it and what you can expect

Need more help?
Let one of our consultants help you get the best account for your needs.
For 24-hour support call us on:
0861 462 273
To apply call us on:
0861 114 411
E-mail us at: