13 August 2019

*Key financial highlights for the first half of 2019:
Headline earnings increased 3% to R8.3 billion
Revenue increased 6% to R39.1 billion
Operating expenses increased 6% to R22.1 billion
Return on equity declined to 16.4% from 17.1%
Dividend increased 3% to R5.05 per share
Absa Group Limited, one of Africa's largest financial services providers, reported a 3% increase in earnings for the first half of 2019 as its retail unit in South Africa gained market share, mitigating the negative effects of a difficult economy.

Absa Group, which has a presence in 12 countries in Africa and an office in London, said normalised headline earnings increased to R8.3 billion during the first six months of the year from R8.04 billion during the same period in 2018. Income and costs both grew at 6%. Normalised earnings are considered the best measure of underlying group performance as it strips out the distorting effect of items related to the separation from Barclays PLC.

"Despite the tough operating environment, we have been able to maintain revenue momentum in our key target areas, with total revenue growth improving to 6%," said Jason Quinn, Absa Group Financial Director.

Absa Group's largest business unit, Retail and Business Banking South Africa (RBB SA), is showing faster than market growth in key product areas, in line with the group's commitment to regain its leading position. RBB SA increased its share of home loans new business, with home loan registrations growing 16% - more than double the growth in total home loan registrations in South Africa during the first half. Retail deposits grew 12% while the market increased 9%. New personal loans increased 20%. RBB SA reported a 4% increase in earnings.

Corporate and Investment Banking (CIB) earnings decreased 5% on a pan-African basis, following a difficult trading period in South Africa. However, the client franchise continued to perform well with notable client acquisitions across the countries in which Absa has a presence. The corporate franchise extended its track record of double-digit revenue growth.

Absa's subsidiaries outside of South Africa, collectively known as Absa Regional Operations (ARO), continued to increase their contribution to group earnings. ARO's earnings rose 8% during the period, to account for more than a fifth of total Absa Group earnings.

Business Review

"We've made significant progress with Absa's reorganisation following the implementation of our new strategy in March 2018, and we are beginning to see the benefits," said René van Wyk, Absa Group CEO. "There is still, however, significant work to be done before we can reach our growth, returns and cost targets - a difficult task in a challenging environment," he said.

RBB SA, which accounts for more than 60% of Absa group income, has largely completed its reorganisation and expects to reap further benefits from its integration with Absa's wealth and investment management and insurance business. The integration, which is underway, will result in a seamless offer for customers between banking and non-banking services.

At CIB, significant work has been undertaken to form an integrated pan-African franchise with a single growth strategy that covers all of the countries where Absa has a presence.

ARO is implementing its new operating model, aligned to the group strategy which devolves accountability and decision-making closer to the customer interface.

Parallel to the reorganisation work across business units, Absa continues to make good progress in separating its operations from Barclays PLC, and in enhancing its digital capability.
After launching ChatBanking on WhatsApp, Samsung Pay, Timiza and Jumo, earlier, Absa significantly enhanced its Absa app in the first half of the year, resulting in a 20% increase in the number of app users.

Outlook

South Africa's economic growth outlook appears muted, with gross domestic product (GDP) expected to grow 0.5% in 2019. The prospects for stronger growth are constrained by the slowing global economy, plus weak business sentiment and decelerating household income growth in South Africa. In the group's ARO markets, GDP is expected to grow 5.5%.
"While Absa's return on equity (RoE) is likely to be marginally lower in 2019, the group remains committed to its RoE target of 18% to 20% in 2021," Quinn said.
Absa Group headline earnings (South African Rand million)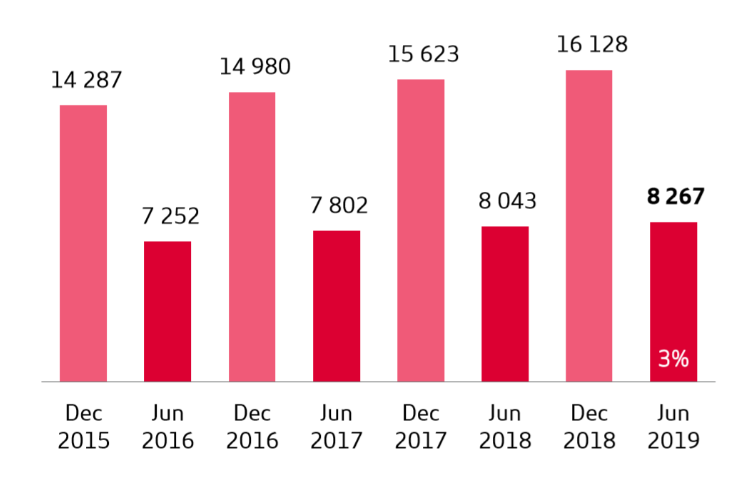 *Note: Normalised financial results, which strip out the distorting effect of separation-related items, are presented to better reflect the Group's underlying performance.