With close to 8 000 ATMs around the country, we make banking convenient for you.
Absa ATM
You can perform all basic, convenience and ATM payment services transactions.
Cash accepting Absa ATM
You can deposit money and perform all basic, convenience and ATM payment services transactions.
Basic ATM services
Standard service - Cash withdrawal, balance, prepaid, and change of PIN
Prepaid - Top-up: Airtime, data and SMS bundles, vouchers, electricity (and UniPin)
Transfer funds - move money between accounts
Saswitch linked transactions - withdrawal, balance, and prepaid top-up
Only available at cash accepting ATMs:

Cardless prepaid transactions
eStamp - draw an electronically stamped statement
Convenience services
Absa Instant Loans - for pre-qualified savings and cheque account customers
Prepaid Funeral - purchase pre-set funeral covers
Select your favourite local and foreign languages
Cardless banking - use the deposit function to pay beneficiaries (only at cash accepting ATMs)
ATM Payment services
Scan and Pay Card based functionality - allows Absa customers to make payments to selected billers
Beneficiary payments - customers are able to pay their own registered beneficiaries
Traffic fines - a wide range of local authorities are available for traffic fine payments
CashSend - send money to anyone, even if they don't have a bank account
Low value payments - load and unload credit on a debit card
Notification services
Card expiry Notification
Wrong PIN Entry Notification and reset notice
FICA notification for required customer information
Source of income updates
View pre-scored credit limits
Stay safe and be vigilant with these ATM fraud and safety tips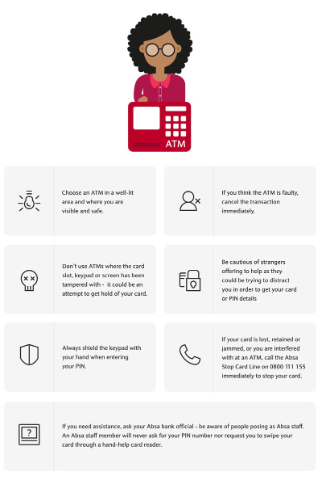 Dos and don'ts of ATM fraud
Have your card ready in your hand before you approach the ATM to avoid opening your purse, bag or wallet while in the queue.
Follow the instructions on the ATM screen carefully.
Report suspicious items or people around ATMs to the bank.
Report any concerns regarding the ATM to the bank. Toll free numbers are displayed on all ATMs.
Take note that fraudsters are often well dressed, well-spoken and respectable looking individuals.
Know what your ATM looks like so that you are able to identify any foreign objects attached to it.
Do not ask anyone to assist you at the ATM - not even the security guard or a bank official. Rather go inside the bank for help.
Do not insert your card if the screen layout is not familiar to you or if it looks like the machine has been tampered with.
Tips for protecting your PIN
Your PIN is your personal key to secure banking and it is crucial to keep it confidential.
Memorise your PIN, never write it down or share it with anyone, not even with your family member or a bank official.
Choose a PIN that will not be easily guessed.
Do not use your date of birth as a PIN.
Don't let anyone stand too close to you in order to keep both your card and PIN safe.
Tips for protecting your cash
Some fraudsters wait until you've drawn your cash to take advantage.
Be wary of people loitering around the ATM and ensure that you are not followed.
Take your time to complete your transaction and secure your card and your cash in your wallet, handbag or pocket before leaving the ATM.
Set a daily withdrawal limit that suits your needs to protect yourself in the event that your card and PIN are compromised.
Check your balance regularly and report discrepancies to your bank immediately.
After you have completed your transaction successfully, leave the ATM area immediately.
Be cautious of strangers requesting you to return to the ATM to finalise or close the transaction because they are unable to transact. Skimming may occur during this request.
Do you require more assistance?
Contact us for any further assistance you may require with a specific problem.
Stop Card - 0800 11 11 55
Action Line - 0800 41 41 41
Reporting hardware related issue - 0860 111 444
Absa ATM Service Centre (Hygiene) - 0860 286 286
Absa general call centre number - 08600 08600
SMS - 30830 for reporting all ATM faults
Mobile Network Prepaid Support numbers
Vodacom - 082 111
MTN - 083 173
Cell C - 084 140
Telkom Mobile - 0800 115 357
Virgin Mobile - 0741 000 123
Prepaid Electricity support - 0861 242 355
Need more help?
Let one of our consultants assist you.
Call us on:
08600 08600
E-mail us at: