Why do you need Homeowner's Comprehensive Insurance?
A home is the most precious asset that a person possesses. A total loss of your property, as a result of unforeseen incidents, could result in you no longer being able to live in your home, possibly leaving you in financial distress. Homeowner's Comprehensive (HOC) Insurance provides cover against sudden and unforeseen events. HOC covers the structure of your residential home, its permanent fixtures and fittings.
Home insurance is compulsory if your home is financed through a home loan. Even if your home is not financed, you don't want to be uninsured when unforeseen events happen.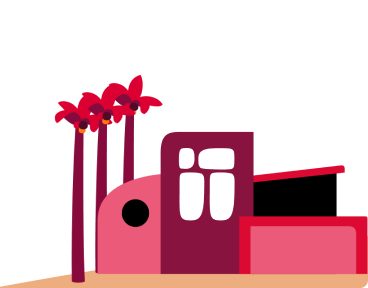 What you need to know about our cover
Taking up cover with us is easy. We offer:

A seamless process where we provide an insurance quote for your home when you apply for your Absa Home Loan.
Affordable insurance premiums collected from your bond account, if you choose, to ensure that premiums are paid timeously and that your property is always covered.
If you choose the Absa HOC, the policy meets the minimum requirements of the mortgage loan (bond) contract and there is no need to confirm insurance through the lifetime of the bond. If you choose an external insurance policy, it will need to be vetted against the minimum requirements and you will be required to provide proof of this insurance on an annual basis for the duration of your home loan.
If you are not applying for a home loan or have paid-up property, you may take a Homeowner's Comprehensive Insurance policy with us directly.

Homeowner's Comprehensive Insurance covers you against:

Damage or loss caused by storms, floods, fire, explosion, earthquakes, bursting or overflowing geyser(s), malicious damage and break-ins.
Damage caused by vehicles and falling trees.
If your tenant has to vacate as a result of an insured event.
Damage due to power surge.
Damages to the structure of your property, including but not limited to: the building, domestic quarters, outbuildings, garages, carports, paving, property and boundary walls.

If you are in progress with a Home Loan application please contact your Absa Home Loan consultant.

Alternatively if you would like Homeowner's Comprehensive Insurance policy after your home loan application, or if your home is paid up, click on the button below.
More details about our Homeowner's Comprehensive Insurance
As a homeowner, you are required to keep your home in good condition by doing regular maintenance such as clearing leaves, vegetation and debris from your gutters and house valleys.
Our policy documents give you all your terms and conditions, provide examples and clear explainations of some of the insurance terminology that you need to know.
The policy is intended to protect you against sudden and unforeseen events. Therefore, a claim will not be considered if:
The loss or damage is a direct result of the property not being adequately maintained.
The damage is due to wear and tear.
Damage due to gradual deterioration.
Your insurance policy requires the sum insured to be equal to the full replacement value of your property, its permanent fixtures and fittings, to provide full cover in the event of a loss. It is your responsibility to ensure that the insurer has been provided with the correct replacement value.