As an employee of one of our banking partners we want to reward the loyalty you've shown to your company with exclusive, discounted banking offers. Below is a breakdown of everything you can get.
Receive our comprehensive financial wellness curriculum for free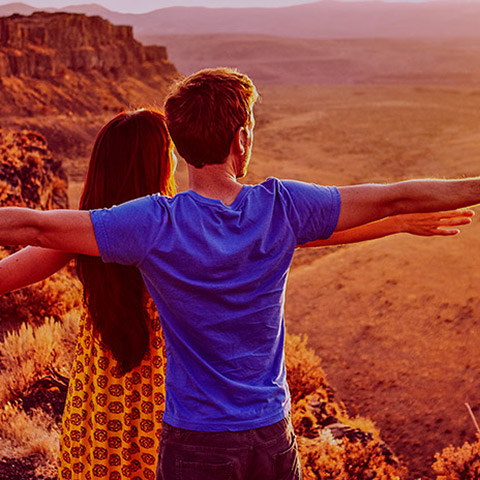 We promise to provide you with financial education and the knowledge you need to make excellent decisions regarding money management, asset accumulations, debt management and retirement provision, too. Here's what you can expect:

Absa Financial Education (AFE) programme breakdown
Get discounted rates on transactional banking and lending


Besides bank accounts and services at exclusive rates, there'll be a dedicated team that will work with you to customise your banking and reduce the need for you to visit a branch. Here's some of the benefits you can expect:

Make a quick comparison of our accounts and opt for the one you want.

Monthly fee
How it works
Minimum income

Free point of sale swipes and cash withdrawals
Free electronic information enquiries
Free eStatements
Free Absa ATM cash withdrawals
Free stop orders
Free electronic payments
Free death/funeral benefit
Absa Dining at participating restaurants
DragonPass airport lounge visits
Free trips with Take-me-Home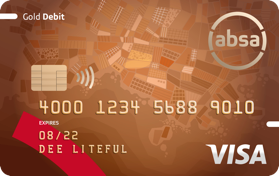 Gold Value Bundle
R107.00 pm
A comprehensive account with a range of unlimited, free transactions.
R10 000 pm
✓
✓
✓
5
✓
✓
R20 000
Up to R100 off second main meals
-
-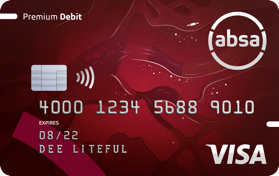 Premium Banking
R179.00 pm
Exclusive access to Airport lounges, Priority Bankers and wealth management assistance from financial advisors.
R25 000 pm
✓
✓
✓
7
✓
✓
R25 000
-
R59 per month
8 per year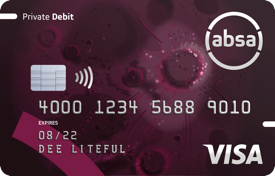 Private Banking
R445.00 pm
You have access to a dedicated private banker for personal financial and investment advice
R62 500pm
✓
✓
✓
7
✓
✓
-
-
-
10 per year
Absa R ewards earn you cash, not points. That's better!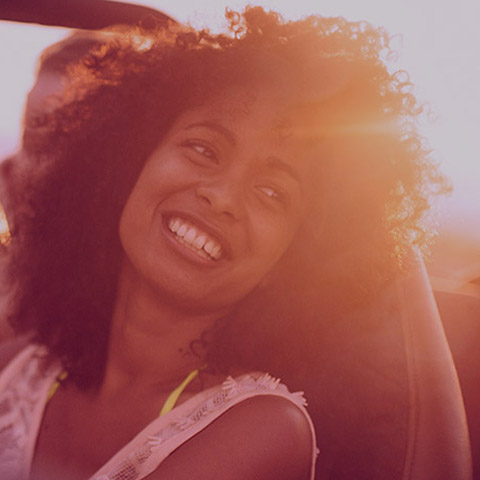 Instead of points we reward you with real cash. You can save your Cash Rewards, transfer it to another account or exchange them for gift vouchers. Below are some of our offerings and a list of our partners where you can make your Cash Rewards work for you the way you want it to and the percentage of cash you earn when paying with your Absa card at them.




15% Cash Rewards on all online purchases made through the exclusive link. The offer is valid for the purchase of all appliances and TV's available on the site, excluding cellphones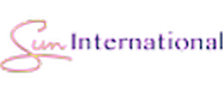 Receive 50% upfront discount on standard 2D and 3D movie tickets at Nu Metro cinemas nationwide
With some Absa Rewards Partners you can convert your Cash Rewards to partner points and get extra value. Here's a quick example of how it works.
Say you have R100 Cash Rewards, when you convert it to Pick n Pay Smart Shopper points you get a R115 worth of Smart Shopper points to spend at Pick n Pay.




Convert your Absa Cash Rewards into Spur eGift vouchers and receive an additional 15% value
How to open your Absa account or switch to us

Call us on:

0860 556 556
Email us at:

We'll contact you right back and assist you with the process every step of the way.