Whatever your need may be - from travelling in style to buying the latest gadgets available - we have a Private Banking exclusive credit card tailor-made for you.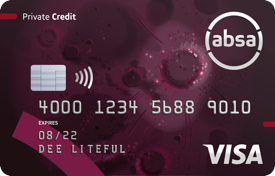 Advantages of our exclusive credit card
Features and benefits

Digital banking: Use your Absa Banking App to stop and replace your card, report fraud, manage your daily card limits and more. Or you can logon to Absa Online Banking and bank wherever you are, 24/7
Bidvest Airport Lounge: 24 complimentary visits plus 2 guest visits per year. A similar allowance is available across all secondary cards in total

Travel insurance: Automatic cover for a range of travel emergencies when you book your return ticket using your card

Free lost card protection: You are covered if your card is lost or stolen, subject to letting the know know (please call us on 0800 111 155)

Absa Rewards: Get cash back when you pay with your card locally and internationally
Absa Advantage: Complete simple challenges on the Absa Banking App and get rewarded instantly

Exclusive Visa benefits such as Visa Global Merchant offers, Buyers Protection and Extended Warranty
Contactless payments: Tap to pay with your card, smartphone or wearable device at any point-of-sale machine worldwide
NotifyMe: For added security, activate SMS notifications to get alerts of any activity in your account
*Underwritten by Chubb Insurance South Africa Limited.
Terms and conditions apply to pricing, services and benefits.

Rates and fees
Interest rate: Get up to 57 days interest-free on qualifying transactions

Transaction fee: No transaction fees on purchases
Fixed monthly payments: You can pay extra on your monthly instalments if you need to
Buy and pay with your credit card
Credit limit: Up to R228 000
Swipe limit: Up to R90 000

Swipe, scan or tap to pay at any point-of-sale machine worldwide
Shop securely online or in store
Qualifying criteria and requirements

Monthly income required: R62 500

Age: 18 years or older
Documentation required: Valid South African ID book or smart card, proof of residence and the latest proof of income for three consecutive months
Subject to affordability assessment
Visa Signature Credit Card

Features and benefits exclusive to your Visa Signature Credit Card:
Global acceptance
Global cardholder assistance services
Travel insurance (travel accident insurance, travel medical benefits and trip inconvenience benefits)
Medical and Legal referrals
Buyers protection
Extended warranty
Collision damage waiver
Visa luxury hotel collection
YQ meet-and-assist
Six complimentary international airport lounge visits per annum, including one guest per visit through Lounge Key

Read more
about Visa benefits associated with your card.
Click on the Apply now button below
On the Online Account Application page, enter the characters as displayed in the image
Please complete the six-step assessment
You may Save and continue later, or Continue at each stage of your assessment
Click Apply when you have completed your assessment
Alternative application options
If you are not sure our Private Banking credit card is the right card for you, please compare our credit cards. If you need alternative application processes, find the one that suits you below:
Absa Online Banking customer
If you're an Absa Online Banking customer, you can apply for a credit card quickly and easily.
Call me back
Telephonic application
Call us on: 0860 553 553
Weekdays 08:00 – 17:30
Saturday 08:00 – 13:00
Contact details

Call us on: 0860 553 553
International: +27 11 501 5011
Weekdays 08:00 - 17:30
Saturday 08:00-13:00