Aimed at customers who earn at least R25 000 per month.
Get access to exclusive benefits, financial advisors, priority banking and airport lounges.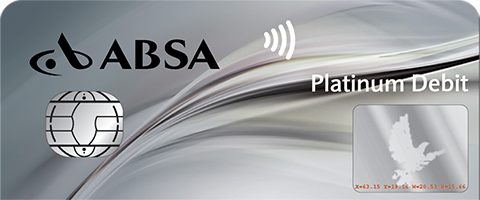 How to get it and what you can expect
To open a Platinum account you will need
To earn a minimum income of R25 000 per month
A valid, bar-coded South African identity document
Proof of residence

Your latest salary advice
To be a South African citizen
Payment options

Value Bundle
Get free transactions, plus other benefits, all for a fixed monthly fee of R159. This fee includes:
7 free Absa ATM cash withdrawals and 5 free Absa ATM cash deposits
50% off your spouse's Value Bundle monthly fee
Up to 50% discount on your monthly fee, if you maintain a positive balance of more than R50 000 in your account for that month
8 free Take me Home Service trips per year
R25 000 lump sum death benefit
An optional DragonPass membership, offering five free airport lounge visits per 12-month cycle at R59 per month

You will also receive discounts to selected airport restaurants and spas & nails bars
Contactless
Our Absa contactless enabled debit cards allow you to make payments of R200 or less with a simple tap against a contactless enabled point-of-sale (POS) terminal. You can make contactless purchases at any participating retail outlet, take a ride using a participating transport operator and use your card to pay for the fare.
Account features
Easy and convenient day-to-day banking that includes access to Priority Bankers at selected branches
Exclusive access to dedicated Platinum line for information
Manage your wealth with the help of a financial advisor

Free subscription for Absa online, Telephone and Cellphone banking
How to use a Platinum account
Swipe your card locally and internationally at point-of-sale (POS)
Shop securely online with One-Time PIN transaction verification
You get a Platinum Absa debit chip card with a unique PIN (Personal Identification Number) for added security
Shop in-store or online with your debit card
Use it for your daily banking needs to pay your accounts, see your balance and statement, withdraw, deposit and transfer money at ATMs and Absa banking halls or using electronic banking
You can buy pre-paid airtime or electricity
Get 24/7 access to the largest ATM network in South Africa
Add Absa Rewards and you'll earn Cash Rewards on all qualifying transactions every time you swipe your debit card

Manage your account online

Visit absa.co.za and register Absa Online
Instantly set limits to pay beneficiaries
Reset a locked or forgotten online password
Retrieve your debit card PIN online
Make immediate interbank payments online
Safety tips on how to use an account card
Keep your card safe and be sure to memorise the PIN
Never keep the PIN with the card and never give your PIN to anyone
You can change your PIN at any Absa ATM or Absa branch
Never let the card out of your sight when using it to pay for goods or services at a till point
Make sure that you receive your card back after every purchase
Keep your copy of the receipt as proof of purchase for your own records
Never trust strangers or ask them to help you when you use your card at an ATM
The option to apply for an overdraft facility or ATM Instant Loan, subject to credit assessment.
The Absa MasterPass wallet
Make shopping quick and easy with the MasterPass App
Today's digital world allows you to do business on the go with the Absa MasterPass™ App. This digital payment application makes shopping faster, easier and more convenient. It's easy – just download the MasterPass App, register and shop away.
Need more help?
Let one of our bank accounts consultants help you get the best account for your needs.
Call us on Platinum Line:
0860 109 085
E-mail us at: