Significant investment is being made in the sector in Africa to address energy demands. As a recognised leader in funding sector initiatives, we're playing our part in securing the African continent's current and future power, utilities and infrastructure demands.
To realise our clients' dreams for a sustainable future, we have become leaders in the funding of power and energy initiatives - a commitment that has been recognised internationally through various awards. We work with clients across the continent to build the infrastructure and utilities that are key to growth and development for Africa.
Thoughts from our leaders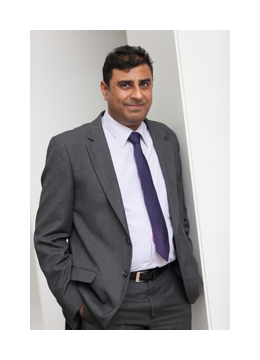 Absa powers up the African continent
By Bhavtik Vallabhjee, Absa Head of Power, Utilities and Infrastructure
Africa's power and energy sector is a critical driver of growth and development, and to ensure the industry reaches its full potential and addresses the energy needs of its citizens, it is necessary for businesses and producers to keep up to date with a rapidly changing landscape.
At Absa, we are leaders in funding power and energy initiatives. We recognise the challenges the power and energy sector faces as well as the vital role that this sector plays on the continent. Significant investment in this sector is being made in Africa to address power and energy demands.
While South African progress in the renewables sector has been slow over the last 2 years, with the draft revised Integrated Resource Plan (IRP) from government delayed yet again, it should be an exciting market going forward – 25 000 megawatts need to be replenished by 2035. This means many power projects should be coming to the fore. By moving away from a large reliance on coal-fired power, we expect that the future generation mix will include a more diversified mix of technologies – including amongst others: gas, wind and solar.
We are even talking to several international utility companies who are targeting the liquefied natural gas to power programme, which would be new to South Africa and a precursor to the creation of a gas market in the country
The world today is about going 'Green and Clean' - creating a more environmentally sustainable future. Africa might be late to the renewables party but we have glorious natural resources that are the future of power going forward. With a 20% year-on-year reduction annually in the cost of solar module prices over the past five years, solar PV has become a compelling solution, especially as grid parity has already been achieved in some countries. As battery storage efficiencies continue to improve and as their costs fall, solar PV cum battery storage will become a game changer in the energy industry in the foreseeable future. Many multinational companies are adopting renewable energy or hybrid power technologies as part of their strategy for captive power generation. Although Absa are mandated by clients on M&A (merger and acquisitions) transactions for coal power projects, it is apparent that finding suitable investors for coal power projects is becoming increasingly more difficult. Currently, 92% of South Africa's energy is derived from coal. Coal-fired power has been fingered as one of the chief villains of global warming, and, as a result, the pool of potential funders of coal-fired power projects is also shrinking, the world over. Southern Africa has an abundance of cheap coal as feedstock for power. Adopting supercritical or ultra-supercritical combustion technologies is likely to be the new standard for 'cleaner coal' power plants. However, this does come at a cost, which filters through to the end user via the tariff.
There is currently much debate around nuclear power, which has huge upfront costs but a plant can run for up to 60 years, while a solar PV plant's lifespan is 25 years and wind is about 20 years. In addition, nuclear has a far higher plant load factor (PLF) and is seen to be baseload, whereas solar PV and wind are intermittent with much lower PLFs. When you do the math, the levelised lifecycle cost of energy of nuclear electricity is actually cheaper than solar PV or wind. But of course, there are other factors to consider including waste disposal and a long lead time to build, etc.
While no renewables deals have been closed in South Africa in the past two years, we look forward to this bottleneck being cleared in 2018. All indications are that Eskom is due to sign the next round of Power Purchase Agreements and achieve commercial close with the Independent Power Producers (IPPs) in early 2018. We have a number of successful preferred bidders who are awaiting closure of transactions on wind, solar and biomass. Once closed, this will once again cement our status as a preeminent financier of Renewable Energy projects across technologies in South Africa.
Absa has been responsible for financing 42% of the total megawatts on renewable energy across the previous four bidding rounds of REIPPPP in SA. I believe we have backed successful IPPs due to our prowess in being able to assist our clients in structuring deals to win. We also have strong relationships with many international developers who are targeting projects north of our borders on our continent and believe 2018 will be a successful year if the projects awaiting closure do actually achieve Financial Closure. After a lull of almost two years in South Africa, the market needs confidence re-instilled - this can only be positive and augur well for our country.
Change to something extraordinary
Call us:
Email us:
Call me back

Corporate and Investment Bank operates Monday to Friday from 08:00 to 16:30