Absa's clearing service is at the heart of our offering to our extensive correspondent banking client network. Absa Group takes part in all domestic payments streams, is represented at all relevant industry bodies and adheres to local as well as international regulatory requirements with regard to Sanctions, Anti-Money Laundering and Combating the Financing of Terrorism.
Thoughts from our leaders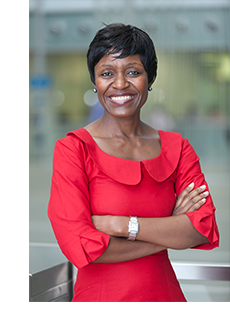 The future of banking in Africa changing as competition intensifies from disruptors
By Nothando Ndebele, Head: Financial Institutions Group
Africa's financial services sector is experiencing a marked change brought about by the rapid pace of technology and digitalisation. This has and will continue to have a significant impact on business models and result in greater collaboration and partnerships among players in the industry.
Looking back over the last ten to fifteen years, probably the most significant emerging theme for banks is how they are having to rapidly evolve from traditional business model where the emphasis was on investing in large fixed branch infrastructure, the "bricks and mortar" strategy.
This resulted in high fixed overheads and often made changing systems and channels cumbersome and costly. In turn, these costs hindered the ability of banks to fully penetrate the mass "low-income" populations in growing urban areas as well as the vast majority of African consumers and small businesses residing in more rural areas. As a result, financial inclusion remained low in most African countries with the notable exception of South Africa.
Enter the disrupters - the fintech companies
Arguably the single biggest disruptive trend in the financial services industry has been the emergence of Fintech companies and their use of technology and digitalisation to challenge the traditional banking models. The proliferation of Fintechs has been driven by several factors. One, they identified a gap in the market either in terms of services being provided or in the cost of delivering those services. Two, they developed a way of addressing that gap through the use of technology. Three, the growth in private equity, venture and angel funds globally means they could access funding to develop their technology and implement their business plans.
The successful disrupters are those that have been able to deliver to offer the same (or similar) services offered by a bank in a new, convenient way, and most importantly at a relatively lower cost to the user of these services. They rely on technology to lower costs and economies of scale to drive profitability and sustainability of their business model.
In Africa, a key driver of success has been the phenomenal growth we have witnessed in the penetration of mobile telephony. Not many people have access to a traditional banking account or landline telephone, but increasingly most African adults have access to a mobile phone.
More importantly, the penetration of smart phones is growing which allows a greater suite of financial services to be developed and offered to a broader reach of customers. As a result Fintech companies have been able to tap the low income mass market as well as reach the remote rural areas through offering their services via mobile phone platforms.
Hence, we have seen a significant shift in the levels of financial inclusion across the continent, especially in countries that have strong fintech hubs such as southern and eastern Africa.
So in what area of banking are we seeing the most significant disruption?
Fintechs operate in several key areas but without a doubt, in Africa, the key focus has been in the payments space. Current estimates show that at least 40% of all Fintech start-ups are operating in the payments (including remittances) space.
Payments are important because they serve several market segments, from migrants and people in the Diaspora to intra-city remittances where people send money back home to families in the rural areas. Product offering has grown to include "Customer to Business" and "Business to Business" payments, which can be anything from utilities to school fees to loan repayments to buying insurance can be executed over a mobile payments platform.
The African electronics payments market is the fastest growing in the world, driven significantly by the growth of mobile money. M-Pesa, the Safaricom success story in Kenya is one well-known example of the growth of mobile payments but there are many mobile payment platforms showing strong growth across the continent.
Another disruptive change taking place is the reduction of intermediaries between savers and borrowers. Banks have traditionally used customer deposits to on-lend to other customers. But we now have the emergence of peer-to-peer lending, where savers lend directly to customers, particularly in the SME lending space. We expect more changes in this space with the growth of block-chain and smart technologies which allow lower or no transaction costs with little intermediation.
So what does this mean for banks?
The advantage for banks is that they have scale - a large customer base which Fintech companies do not have but obviously need. Banks have the added advantage of consistent investment in technology, which they can leverage to partner with Fintech companies. Hence the emergence of Fintechs is not necessarily a threat but an opportunity to collaborate and evolve.
By adapting and becoming more nimble in their digital journeys, banks can emulate services provided by disrupters. At times, it makes sense for banks to insource or acquire fintech services, or form partnerships to drive win-win solutions.
Technology and disruption has made banking relatively cheaper for customers to use and access; it has also enabled banks to reach a wider customer base, and has aided banks in diversifying their revenue models. We see collaboration, evolution, convergence as the future driving forces.
Absa is already exploring opportunities to collaborate or develop partnerships with Fintech companies in the markets where we operate. We are particularly seeking partnerships based on reach, infrastructure and scale as we pursue our pan-African growth strategy and our goal of being more than a bank but, more importantly, a force of positive change on this continent.

A bank of scale in Africa
Diversified financial services provider headquartered in Johannesburg, South Africa with a presence in 12 markets in Africa:

Direct banking presence in Botswana, Ghana, Kenya, Mauritius, Mozambique, Seychelles, South Africa, Tanzania, Uganda and Zambia

Representative offices in Namibia and Nigeria

Strongly positioned as a fully local bank with regional and international expertise

Listed on the JSE Limited

A market cap of over US$12 billion (as at 31 December 2017)