Room for consolidation in the insurance sector in Africa
Nothando Ndebele, Head: Financial Institutions Group
The low insurance penetration rates across many countries in Africa outside South Africa present an exciting opportunity for existing and potential players to build value creating growth businesses through consolidation of market shares driven by either mergers and acquisitions to build scale or the forced exit of the long tail of small unprofitable players. We believe consolidation will most likely be driven by regulatory reforms focused on strengthening the capital adequacy and solvency of insurers and reinsurers.
Across Africa, insurance penetration rates are still very low, estimated at less than 3% of GDP for most African economies compared with South Africa, where the penetration rate is around 15% of GDP. Other countries that exhibit relatively developed penetration rates, include Mauritius, Namibia, Morocco and Zimbabwe and, to a lesser extent, Botswana and Kenya. But for the rest of the continent penetration rates are still fairly low.
Figure 1.0: Insurance Penetration
We attribute this low penetration to several reasons. First, lack of consumer awareness about the value (and at times availability) of insurance products. Consumers are often unwilling to enter into long-term insurance contracts as they lack an understanding of the benefits of these products.
Second, even when the benefits are understood the cost of insurance can be seen as prohibitive and hence regarded as a discretionary or 'luxury' purchase and where regulation demands the purchase of an insurance policy it is often viewed as a 'grudge' purchase where pricing often becomes the key determinant of choice. Third, underdevelopment or lack of suitable products to address real consumer needs.
In many countries, burial societies and stokvels have played a crucial role in a providing the same benefits as a funeral policies as these products were not widely available through insurance companies. This is changing rapidly as funeral cover is one of the fastest growing retail products in several countries.
In our view, the other key issue holding back the pace of development in the sector is the high level of fragmentation across most African insurance markets. Presently, the insurance sector in Africa is still very fragmented and is characterised on one end by a few large players, and on the other, numerous small to medium-size companies, some of which are family owned.
In contrast, in South Africa, the largest insurance industry in Africa based on gross written premiums, the industry is dominated by a few large consolidated players operating in the life, non-life, medical, employee benefits, pension fund administration and asset management sectors.
Figure 2.0: Insurance Premiums Written, Split and Real Growth Rates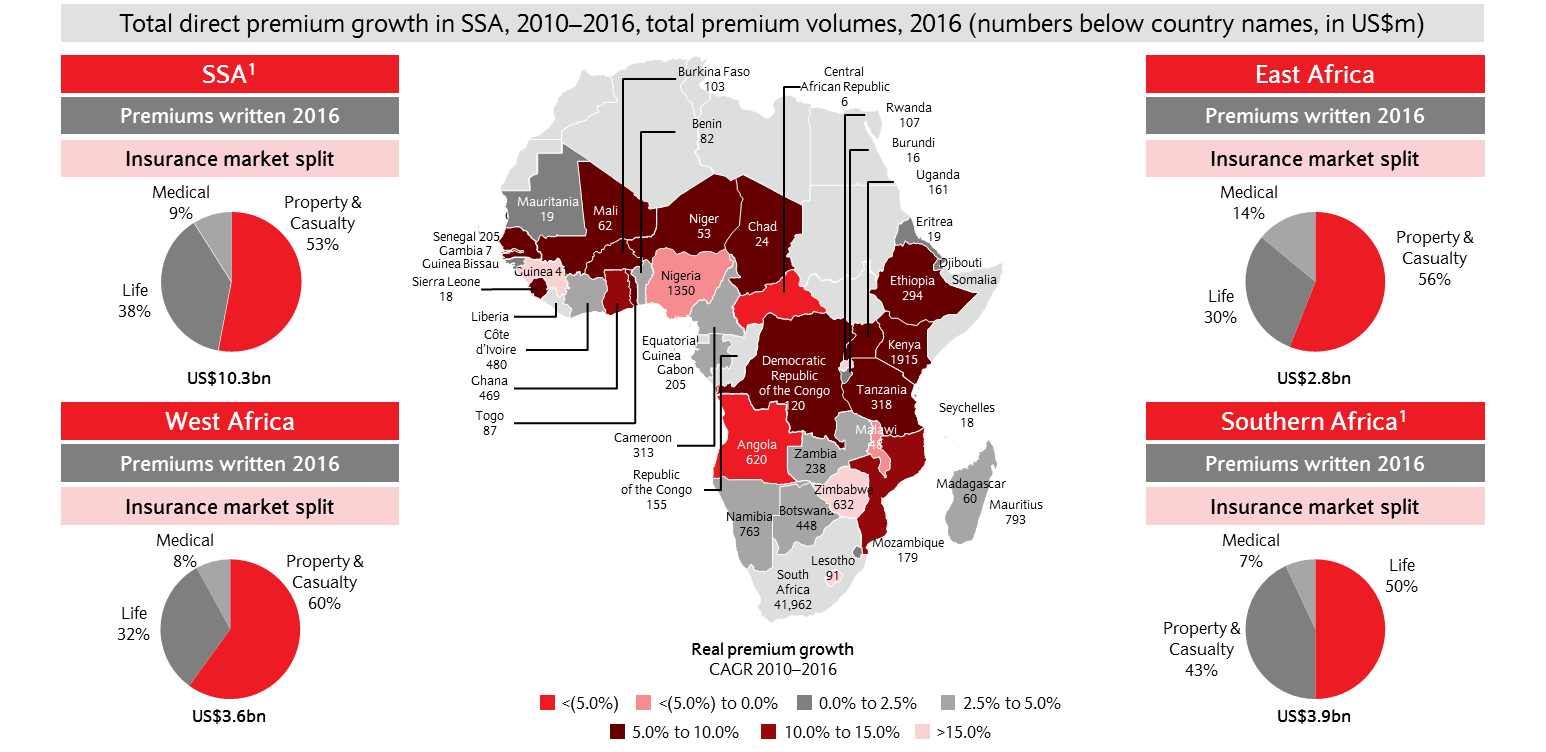 For the insurance industry to further develop in Africa, regulatory push will be needed via higher and more stringent capital requirements. Barriers to entry from a capital perspective are not sufficiently high and hence the long tail of small unprofitable players. More stringent capital requirements are likely to drive consolidation as we have seen (and continue to witness) across numerous African banking markets.
Companies who fall short of new capital requirements are either forced to exit, merge or be acquired by bigger and stronger players. If insurance follows the same trends as we have witnessed in banking, then we could see the number of active companies in each market fall significantly over a short period of time.
Why are we proponents of consolidation? Because of the problems arising from the high levels of fragmentation. High fragmentation has a negative impact on both growth and profitability. Pricing tends to be extremely overly competitive, and at most times, irrationally so. Hence, it is not unusual to find that the income companies earn from premiums are insufficient to cover their cost bases – which primarily includes general expenses and the claims paid out.
As a result, companies easily slip into operating losses and have to rely on investment returns to deliver benefits (if at all any) on the profit line. This has proven to be an unsustainable path to value creation as investment returns can oscillate fairly significantly over time. For the industry to become more sustainable, the pricing of premiums needs to be sufficiently high to cover the combined operating and claims costs.
These profit pressures have also been a deterrent in developing more sophisticated products for the African consumer. Focus, instead, tends to be largely centred on products where demand is supported by regulation. For example, in countries where motor vehicle or property (fire) insurance is compulsory, we find that general insurance products are largely focussed on these segments. This has seen some companies focussing more on corporate businesses versus retail as the volumes in corporate allow for greater economies of scale and hence better profitability.
Who are the buyers who will drive consolidation as regulatory support kicks in? As stated previously, we see existing local players are one group of potential buyers. Others include regional and Pan-African companies. Over the last decade we have companies, such as Sanlam, Old Mutual, MMI, Hollard and Britam expand outside of their home markets through acquisitions. We have also seen the entry of international insurers including AXA, Allianz and Prudential (UK) and Prudential (US).
Figure 3.0: Recent M&A Activity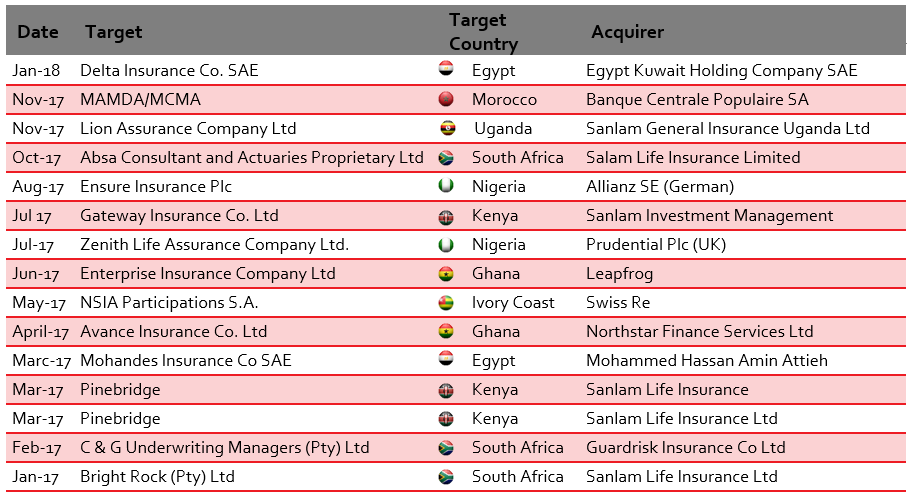 Source: Reuters & Merger market
That said, interest in the insurance sector by large multinationals has somewhat dissipated over the last 1–2 years compared with say, five years ago when Africa was considered a hot spot for investors and most investment opportunities looked good on paper. However, the downturn in commodity prices and the resultant decline in Africa's GDP growth rate has tempered appetite for acquisitive growth.
In some cases acquisitions have either disappointed with regards to expected returns or acquirers have simply found that the size of the potential market is not big enough for the capital investment, time and skills required. Additionally, some multinationals have been faced with pressure on margins in their home markets due to both growing competition and increasing regulatory demands.
All the above has resulted in a greater scrutiny on valuations and pricing expectations of sellers, and at times, has led to a U-turn in plans to invest in the insurance market in Africa. Included in here are some of the South African-based insurers. South African insurers have been the most active in Africa although in recent years, however some have either scaled back or exited from some markets because of poor returns and pressure from investors to deploy capital where there are relatively higher and stable returns. But some are bucking the trend as witnessed by Sanlam's recent 100% acquisition of Saham Finance.
Our view is that those insurers who have decided to take a long-term view and still see Africa as a growth opportunity are likely to reap the rewards of their efforts and patience over time. Africa has the fastest growing and youngest population in the world. The continent is also undergoing attractive rates of urbanisation and consumer adaptability to the digital world. This presents enormous opportunities for companies with a long-term vision and an ability to adjust with the times and maintain an agile cost base.
One of the trends to watch out for is the development of Fintech companies which are becoming a major threat and disruptor to traditional business models. Some insurance companies – and even banks – are either collaborating with these Fintech companies where it makes business sense, for example, on payment and distribution channels, or are also competing head-on with them. Our advice to clients is to embrace the new technology rather than ignore or resist its threat to their business.
Against this background of challenges and opportunities in the insurance sector, CIB is well-placed to advise clients on how to position themselves, the risks they need to be aware of and how to manage them, choosing the appropriate product mix and distribution models and the best markets to enter, either through joint ventures, partnerships or acquisitions.
We are the 'Go-To' bank for advice and the provision of appropriate products, platforms and services because we have not only the expertise, but most importantly, we are on the ground in these African markets. We are African and these are our home markets.
Africa Financial Markets Index
George Asante
The AFMindex measures the level of development of the financial markets in Africa, based on a comparison of 17 countries. These countries were ranked according to a number of measures, ranging from market depth, regulatory environment to legality and enforceability of agreements, with the objective of focussing the attention of policymakers on, structural reforms needed to transform and accelerate the development of the various financial markets.
The index was launched in October 2017 alongside the IMF meetings and subsequently in the various countries to promote the index locally and also get buy in from all local stakeholders.
The response has been warm and engaging from market players and stakeholders who see it as a useful tool that can be used to drive discussions and accelerate reforms in the financial markets in a manner that is structured with a uniquely African lens. Two key benefits of developing our financial market have been highlighted in discussions on the index these being, a potential reduction of cost of borrowing or costs of transactions and secondly the ability to mobilise capital.
Below are ten key themes that have emerged:
1. AFMindex does not measure attractiveness of returns
There has been the tendency to assume that this index could be used as a proxy for determining the best investment destination from a returns perspective. The AFMindex construction consciously avoided the risk of becoming a measure of commercial attractiveness. There are already enough product-specific indices that measure attractiveness. The survey, which is to be published annually, addresses the broader problem of assessing countries on the basis of the maturity of their financial markets ecosystem, their openness and the accessibility of products as well as to provide stakeholders with a tool to continuously discuss the way best to accelerate reforms, reduce risks and develop more inclusive financial markets In Africa.
2. What specifically does the index measure?
The index is built on six broad pillars of financial markets development, namely market depth, access to foreign exchange, transparency, capacity of local investors, economic opportunity and legal enforceability, with over 40 sub measures.
3. The index doesn't measure strategic designs, it measures executions and outcomes
The AFMindex focusses on outcomes measured in actual activities in the marketplace or products rolled out rather than on strategic intentions. This shifts the discussions from being high level to the critical issues that will have transformative impact. Therefore, with the exception of the measure under pillar three, where the index rewards countries for having a formal top down strategy at the governmental level, all other sub pillars measure delivered outcomes to avoid the trap of having great strategies with poor implementation.
4. Good pan-African representation
Although the maiden edition of the index covers only 17 out of the 52 African countries, these countries make up 60% (US$1.1 trillion) of the continent's GDP including all regional hubs from the Indian Ocean to Cape to Cairo. The 17 countries widely vary to include those with sophisticated capital markets like SA, budding markets like Nigeria and countries like Ethiopia, which is yet to set up a securities exchange. The long-term vision is to include all countries in the survey.
5. Africa pays high avoidable costs due to the low development of the financial markets
Perhaps the easiest way to see the high avoidable cost of undeveloped markets, is the average of over five percentage point difference in interest rate between the top five most developed financial markets in the index compared to the next five markets. This means US$5 out of US$100 paid as interest cost is avoidable. In value terms, this translates into US$1bn per country per annum, based on 2017 debt numbers, ceteris paribus. Saving this cost is even more important now as African countries are spending more on debt servicing than critical social sectors like education. The impact on social infrastructure would be transformative if countries were to save this amount annually by prioritising the development of the financial markets.
6. Only two countries in Africa have freely floating exchange regimes
Many are surprised that only Zambia and South Africa have exchange rate regimes that are truly free-floating; others on the continent are either managed floating or fixed and thus negatively impact investors' ability to independently forecast the value of their assets.
7. The index is not exclusive to Barclays Africa and its clients
Although Barclays Africa Group is the sponsor of the survey, the data collection and analysis is done by the Official Monetary and Financial Institutions Forum (OMFIF), a credible and independent research house with experience in Africa. Barclays Africa sponsored the survey in line with our shared growth strategy and our commitment to accelerating reforms and further develop financial markets across Africa.
8. The rivalries!
Although the intention of the index was not to fuel any rivalries, it appears people somehow invoke a soft side to the existing rivalries and pull a parallel to whatever exists. The Ghanaians were keen to see if Nigeria managed to pull a score to equalise the existing 'Jollof war' in same manner the Kenyans were keen to understand why at all the Ugandans came ahead of them in the pillar on access to FX.
9. The index aggregates the entire financial markets ecosystem
The index recognises the interdependencies of the sub markets within the financial markets ecosystem and therefore aggregates matters on products, process, regulation and infrastructure within the money market, the foreign exchange market, the bond market, the Repo market, the equities market, the credit market, the structured investments market and the derivatives market. This is important in order to enable the financial system in a holistic manner.
10. Three priorities
During the country launches, the common question was, which are the three priorities countries should focus on as a first step to transforming their markets? Although this varies by country, our broad view of the three quick wins are: firstly, countries must implement fully the primary dealership system with a supporting legal framework to build a credible funding curve for the markets; secondly it is critical to broaden the FX market and attract more participants, including solving for counterparty risks and opening up the capital accounts for portfolio investors; and lastly, there is the need for the securities exchanges to instil transparency, independence and credibility in tradable products beyond Equities, coupled with rollout of market making framework as a complement to the existing model driven solely by a brokerage culture.